Discounted video footage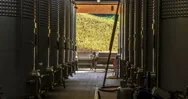 A wine cellar is a storage room for wine in bottles or barrels, or more rarely in carboys, amphorae, or plastic containers. In an active wine cellar, important factors such as temperature and humidity are maintained by a climate control system. In contrast, passive wine cellars are not climate-controlled, and are usually built underground to reduce temperature swings. An aboveground wine cellar is often called a wine room, while a small wine cellar (fewer than 500 bottles) is sometimes termed a wine closet. The household department responsible for the storage, care and service of wine in a great mediaeval house was termed the buttery. Large wine cellars date back over 3700 years.
A vineyard is a plantation of grape-bearing vines, grown mainly for winemaking, but also raisins, table grapes and non-alcoholic grape juice. The science, practice and study of vineyard production is known as viticulture. Vineyards are often characterised by their terroir, a French term loosely translating as "a sense of place" that refers to the specific geographical and geological characteristics of grapevine plantations, which may be imparted to the wine itself.
A grape is a fruit, botanically a berry, of the deciduous woody vines of the flowering plant genus Vitis.
Grapes can be eaten fresh as table grapes, used for making wine, jam, grape juice, jelly, grape seed extract, vinegar, and grape seed oil, or dried as raisins, currants and sultanas. Grapes are a non-climacteric type of fruit, generally occurring in clusters.